The MacBook Pro 2018 is here, and it improves on last year's model in pretty much every way – stronger processors, faster memory, more storage and even an improved keyboard. 
We now have a lot of details about the MacBook Pro, following from Apple's initial reveal on July 12. These new top-end MacBooks are strapped with 8th-generation Core i5, i7 and i9 Coffee Lake processors, promising up to 70% better performance – which should be enough to convince enterprise users to make the upgrade. 
The new models of the MacBook Pro come exclusively with the controversial Touch Bar, so if you were hoping to see the $1,299 (£1,249, AU$1,899) with the new tech, you'll have to save up for a bit longer. So, it might be worthwhile to take a minute and think about the MacBook Pro 2018 vs 2017 and whether it's actually worth upgrading. 
We've had a first look at the new MacBook Pro and we have a lot of new information, so read on to learn everything there is to know about the new professional-grade macOS Mojave-ready devices. 
Cut to the chase
What is it? Apple's most powerful 2018 laptop 
When is it out? July 12, 2018 
What will it cost? Starts at $1,799 (£1,749, AU$2,699) 
MacBook Pro 2018 release date
Luckily, Apple isn't making you wait too long to get your hands on the MacBook Pro 2018. Immediately after its announcement, the new MacBook Pro is available to purchase worldwide. 
Plus, if the shipping estimates on Apple's store are any indication, it looks like you'll be able to get your hands on the new device as early as July 16.
How to buy the MacBook Pro 2018 
If you want to get your hands on the latest MacBook Pro, you can order it on Apple's online store. Unfortunately, at the time of this writing, it looks like that's the only place to get your hands on it.
You won't be able to get next-day shipping right away. The Apple Store in the US says the earliest ship date, if you pay for expedited shipping, is Monday, July 16. The MacBook Pro 2018 should be available through retail Apple Stores and other outlets later this week.
Be sure to keep this page bookmarked, though, as we'll update it when MacBook Pro availability expands.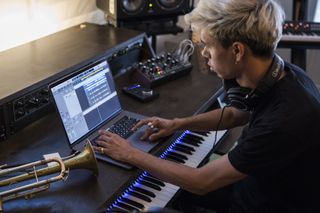 MacBook Pro 2018 price
This time around, there are only two new configurable MacBook Pro models: 13-inch with Touch Bar and 15-inch with Touch Bar. 
With the 13-inch model, you're looking at a starting price of $1,799 (£1,749, AU$2,699). That will get you a quad-core 8th-generation Core i5 Processor, 8GB of RAM and a 256GB SSD. If you want to beef up that model, you can bump up to a Core i7, 16GB of RAM and 2TB of solid state storage for $3,699 (£3,599, AU$5,599).
If you're looking for a larger screen and more performance, you can get the base 15-inch model for $2,399 (£2,349, AU$3,499). That'll net a six-core Intel Core i7 processor, 16GB of RAM and a 256GB SSD. The 15-inch model is configurable with up to an Intel Core i9 processor, 32GB of RAM and a 4TB SSD. This configuration will set you back $6,699 (£6,209, AU$10,339).
Of course, there are many configuration options in between.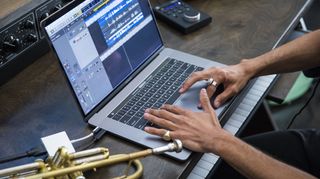 MacBook Pro 2018 specs 
The MacBook Pro 2018 comes with a huge bump in the specifications. We'll dive into all of it in more detail below, but the core specs for the MacBook Pro 2018 are: 
13-inch:  
Quad-core Intel Core i5 and i7 processors up to 2.7GHz with Turbo Boost up to 4.5GHz and double the eDRAM 
Intel Iris Plus integrated graphics 655 with 128MB of eDRAM 
Up to 2TB of SSD storage 
True Tone display technology 
Apple T2 chip 
Touch Bar and Touch ID 
15-inch: 
Six-core Intel Core i7 and Core i9 processors up to 2.9GHz with Turbo Boost up to 4.8GHz 
Up to 32GB of DDR4 memory  
Powerful Radeon Pro discrete graphics with 4GB of video memory in every configuration 
Up to 4TB of SSD storage 
True Tone display technology 
Apple T2 chip  
Touch Bar and Touch ID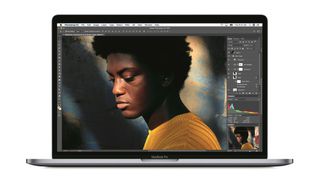 Processing the future 
At the core of the new MacBook Pros is the 8th-generation Intel Core processors found inside. One of the biggest criticisms of the last couple iterations has been that the processors have been a bit behind the rest of the competition.
And, at least for the time being, that just isn't the case with the new MacBook Pro. While we don't know exactly which Coffee Lake or Kaby Lake-R chips are in the new MacBook Pro, they look on par with the best laptops that have come out over the last year or so. 
What's especially notable is the optional six-core Intel Core i9 chip in the 15-inch model. Not only does it feature more cores, but it's also extremely agile, with a Turbo Boost speed of up to 4.8GHz. There has never been a MacBook with access to that kind of power. The fact that it can be paired with up to a Radeon Pro 560X means that if you're a professional video editor or artist, you're going to have a lot of power at your fingertips. And, the time you save could help sweeten that astonishingly high asking price.
But, even the processor in the 13-inch model is no slouch. Just by moving from a dual-core in the 2017 MacBook Pro to a quad-core in the 2018 version means that you're going to see huge performance gains. Apple claims it's up to a two times performance increase – that seems a bit high, but we'll see exactly how much better it is when we do our full review.  
Memory and storage 
With the move to 8th-generation Intel Core processors, Apple has lifted the limit of RAM available on the MacBook Pro to 32GB. For productivity, this is going to be a huge boon potentially shaving hours off of your workload. The 15-inch MacBook Pro is going to be a multitasking beast. It's an expensive upgrade, and we wouldn't necessarily recommend it to most people, but it's nice that its there – Apple is putting the 'Pro' back in MacBook Pro.
What might go unnoticed by many, though, is the fact that the 15-inch MacBook Pro is now using DDR4 memory. This means it's faster, more efficient and less prone to errors than the last generation of MacBook Pro. It likely won't make a huge difference to people using the MacBook Pro for everyday computing, but for professional users, it just makes all that much more difference.
The storage has also seen a substantial upgrade. In the both models you can get up to 4TB of PCIe SSD storage. Most people will likely never need that much, but at least professional users won't need to carry around a bag full of external SSDs anymore.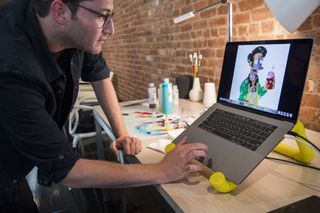 Same display, improved keyboard 
One of the biggest controversies surrounding the MacBook Pro 2017 was the fact that the keyboard was loud, uncomfortable, and had the tendency to break – costing hundreds to repair. Now, Apple hasn't really shared any information about the 3rd generation Butterfly keyboard in terms of reliability, but we have been told that the core focus of the upgrade was to reduce noise. This will be great news for anyone who has been chastised by coworkers when typing furiously on their MacBooks, but we're curious to see if the same stuck-key issues repeat themselves with the new keyboard.
As for the display, nothing has really changed from the last generation. You're still getting the Retina 2,560 x 1,600 and 2,880 x 1,800 for the 13-inch and 15-inch models respectively. It would have been nice to see Apple move to a 4K display, especially since there are plenty of Windows 10 laptops that have nicer displays for less money, but it's still fine. The screen still has a high enough resolution to get most creative work done, and if the brightness and color accuracy are anything like the last generation, you're still getting a very nice panel. 
These are the best Macs that 2018 has to offer so far
Bill Thomas has also contributed to this article