James Peckham
OnePlus has chosen an odd release schedule for its latest series of phones choosing to unveil the OnePlus 7T at its own event in September and then choosing to unveil the OnePlus 7T Pro today.
The OnePlus 7T Pro is only rumored for now, but even OnePlus has heavily hinted at the fact it'll be announcing another top-end handset later today. We'll also hopefully get release date and price details for the OnePlus 7T in the UK.
The launch event is happening in London, and we'll be there on the ground to give you all of the latest details as they become clear.
The event is set to start at 4PM BST / 11AM ET / 8AM PT (2AM AEDT on October 11) and we'll be keeping you up to date with all the latest news in our OnePlus 7T Pro launch live blog.
OnePlus 7T Pro launch live blog
James Peckham
All times in British Summer Time (BST)
James Peckham
09:50 – Just hours before the OnePlus 7T is set to launch, a leak has revealed the pricing of the 7T and 7T Pro McLaren Edition.
According to the leak, the phones should cost the same as their non-T versions – except the McLaren Edition, which of course doesn't have a non-T counterpart, and could end up being the most expensive OnePlus smartphone so far.
The OnePlus 7T Pro price will almost definitely be revealed at the event later, so we'll soon find out how accurate this price leak is.
James Peckham
08:30 – As we've mentioned in the introduction, today is a weird one for OnePlus. The company has already unveiled its OnePlus 7T handset, but it hasn't confirmed UK release date or pricing details until today.
Exactly why OnePlus chose to announce the two phones separately hasn't been made clear by the company but we're hoping to have the full picture by the end of today.
We've already had extensive time with the OnePlus 7T and you can read our full review of that phone just below.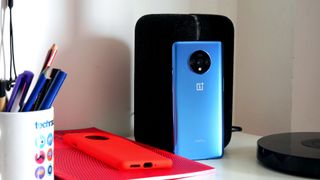 James Peckham
08:25 – Good morning! It's early, but it's time to get prepped for a day of brand-new phones, as the OnePlus 7T Pro is set to be unveiled later today.
The launch is happening in London where we'll be there to see the new handset first hand. But first… breakfast.